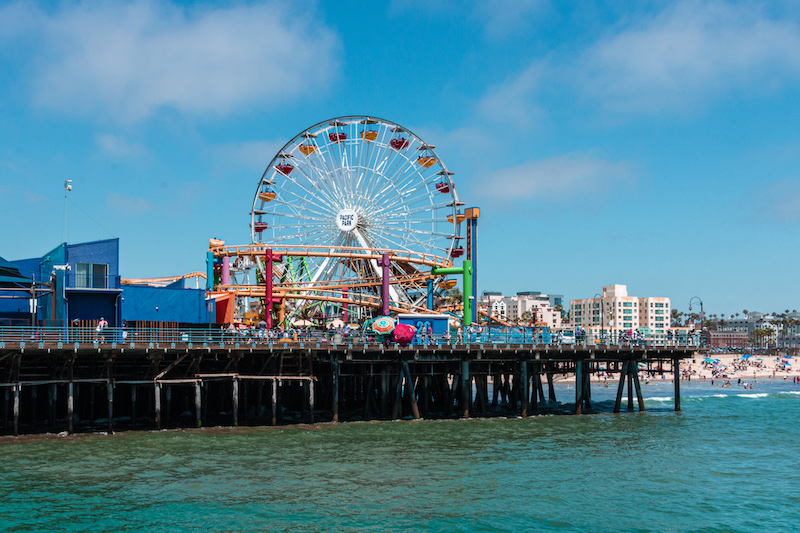 Congrats to the winners of the L.A. Marathon! Now that all the cardio and street closures are behind us, we look forward to another jam-packed week of stuff to do in Los Angeles. Here's what on deck:
For March 21-25 in L.A. you can check out a night of queer cinema at The Hammer, peep some new art at SCI-Arc, have an Oscars-themed trivia night, see a free comedy show in Long Beach, catch a Hitchcock double-feature at the New Bev, see the Price is Right Tour at the SM Pier, and more. And, as usual, we gently remind you that if you're not receiving our weekly emails chock full of things to do, you're missing out!
Things to Do
Pioneers of Queer Cinema -> As part of the Hammer Museum's Pioneers of Queer Cinema program, the Billy Wilder Theatre will host a trio of three screenings this Monday, March 21. Two shorts, Behind Every Good Man (1967) and Dottie Gets Spanked (1993), open the slate. The evening caps off with a screening of Parting Glances, a 1986 Bill Sherwood drama notable for a supporting performance by Steve Buscemione, and as one of the first feature-length narratives to deal with AIDS on a first-hand basis. The screenings are free to attend with RSVP. Tickets are available here.
Lucy McRae: FUTUREKIN -> What does child bearing look like in a world where gene editing and lab-grown babies are the norm? How does technology transform both bodies and ethics? Artist Lucy McRae tackles these issues in a provocative new show at SCI-Arc called FUTUREKIN, which is on view now through April 13. The SCI-Arc Gallery is open daily from 10 a.m. to 6 p.m., and admission is free. More info here.
L.A. Memo: Chicana/o Art from 1972-1989  -> LA Plaza de Cultura y Artes has a new exhibition that highlights contribution of Los Angeles-based Chicana/o artists to American art.  L.A. Memo: Chicana/o Art from 1972-1989 showcases the artwork of more than 30 artists including Carlos Almaraz, Patssi Valdez, Teddy Sandoval, and Judy Baca. LA Plaza is open Monday to Friday, noon to 5 p.m., and Saturday-Sunday from 10 a.m. to 5 p.m. Admission is free. More info here.
Melrose Rooftop Theatre -> West Hollywood's Melrose Rooftop Theatre returns for its sixth season at  E.P. & L.P. with an exciting mix of new releases and classic movie screening, seven days a week. This week you can watch A Star is Born on Monday, or Coming to America on Tuesday. General admission seating is $30 per person, and a dinner and a movie VIP package that includes a three-course menu from E.P. Restaurant will cost $65 per person. All movie-goers will all gain access to individual bean-bag seating, personal wireless headsets and a full bar with candy, popcorn, food and drinks for purchase.
The Art of the Ramen Bowl -> Ceramics meets noodle at The Art of the Ramen Bowl, a new exhibition coming to Japan House LA starting this Friday, March 18 where visitors will learn how ramen evolved from a humble street food to a cultural icon. On display will be a massive "Instagram-worthy" bowl created by food manufacturer Iwasaki Moke, plus a host of designer bowls curated specifically for the exhibition. Entry is free, and admission is available for walks-ins from 11 a.m. to 6 p.m. daily. More info here.
Art of Costume Design at FIDM Museum -> FIDM Museum's annual "Art of Costume Design in Film" has returned, showcasing costumes created by all five Academy Award nominees for Costume Design, plus other top costumes from films of the past year. The exhibition runs through June 4, and the museum is open Tuesday to Saturday. Admission is free. More info here.
Zen Running Club Pop-Up -> European brand Zen Running Club has landed in DTLA to showcase their plant-based sneakers as part of a week-long event bookending the LA Marathon. Try on a pair of the vegan-approved kicks, then test them out on a treadmill with guidance from trainers of John Reed Fitness. The pop-up shop will be at 958 S Broadway, from 11 a.m. to 7 p.m., March 16-23. More info here.
Barbara Kruger: Thinking of You. I Mean Me. I Mean You ->  A major exhibition devoted to the art of Barbara Kruger is now open at LACMA. And though it covers over forty years of the artist's work, don't call it a retrospective. Rather, the Thinking of You. I Mean Me. I Mean You arranges and reinterprets Kruger's work to provide timely critiques of capitalism, consumerism, and social identity. Mediums range from massive rooms covered in vinyl texts, to video installations, soundscapes, and digital projections. The exhibition runs through July 17. LACMA is open every day except Wednesday. We highly recommend checking it out. More info here.
Oscars-themed Trivia -> This Tuesday, test your film knowledge with an Angel City Brewery quiz event free and open to the public. Questions will probe knowledge of this year's awards as well as nominees, winners, and memorable moments from ceremonies. As in years past trivia is free to play with teams of up to 8 people, but space is limited and entry will be first-come, first-serve. Food trucks will be on hand with bites for purchase. More info here.
Hitchcock Double-Feature at New Beverly -> Tuesday, Wednesday and Thursday of this week, the New Beverly Cinema will screen a double-feature of of the Alfred Hitchcock classics Rear Window and To Catch a Thief. All three nights start at 7:30 p.m. Tickets are $12. More info here.
Westweek Live -> This Wednesday at the Pacific Design Center, Westweek returns for a premier in-person showcase of the best in interior and landscape design, including over 2,000 product lines presented by over 70 boutiques. Expect talks, installations, open houses, and more. Entry is free. More info here.
Bear City Comedy -> Every Wednesday, you can catch free comedy at Que Sera in Long Beach presented by Bear City. This Wednesday's lineup includes Subhah Agarwal (NBC, HBO, Comedy Central), Ari Mannis (TBS, MTV), Sierra Katow (Netflix, HBO), Sean White (Riot LA Fest), Saul Trujillo (Comedy Store), Matt Lockwood (Comedy Store), and Hormoz Rashidi (Comedy Store). More info here.
SoFar Sounds -> Live music pop-up concept SoFar Sounds is hosting a number of concerts in secret locations Thursday through Saturday this week. Locations include commercial spaces and spots that allow BYOB. More info here. 
Advertisements
Alaska at The GRAMMY Museum -> RuPaul's Drag Race All Stars season 2 winner Alaska stops by The GRAMMY Museum this Thursday for a conversation about her upcoming new album, RED 4 FILTH, moderated by Monét X Change. A performance featuring select songs will follow the discussion. Tickets are $25. More info here.
Sip & Scribble at Tabula Rasa Bar -> On Thursday bring your sketch pad and head to Tabula Rasa Bar in East Hollywood for an evening of doodling. The bar will provide art supplies for the community and you are welcome to bring your own too. 
Becoming Jane after-hours at NHM -> Get an in-depth look at Natural History Museum's Becoming Jane: The Evolution of Dr. Jane Goodall, with a special after-hours event this Friday featuring a panel discussion and educator-led tours of the exhibition. Tickets are $10 for non-members. More info here.
The Price Is Right Tour -> The Price is Right turns 50 years old this year, and to celebrate the legendary game show is hitting the road for a nationwide 50-stop tour. The tour kicks off this this Friday at the Santa Monica Pier with a special launch event featuring host Drew Carey, and model Alexis Gaube. Expect a 70s-style bus, interactive games (Plinko, baby!), and photo opps, including a dusk conversion of the Pacific Park Ferris wheel into a Price is Right spin wheel. Friday's event runs noon to 8 p.m. Open to the public. More info here.
Every Place I Cry -> Into emo? Like improv? Head to the Elysian Theater this Friday for a concert experience put together by players from Improvised Shakespeare, Duncanville, and the Off Book Podcast. Tickets are $10. More info here.
Dining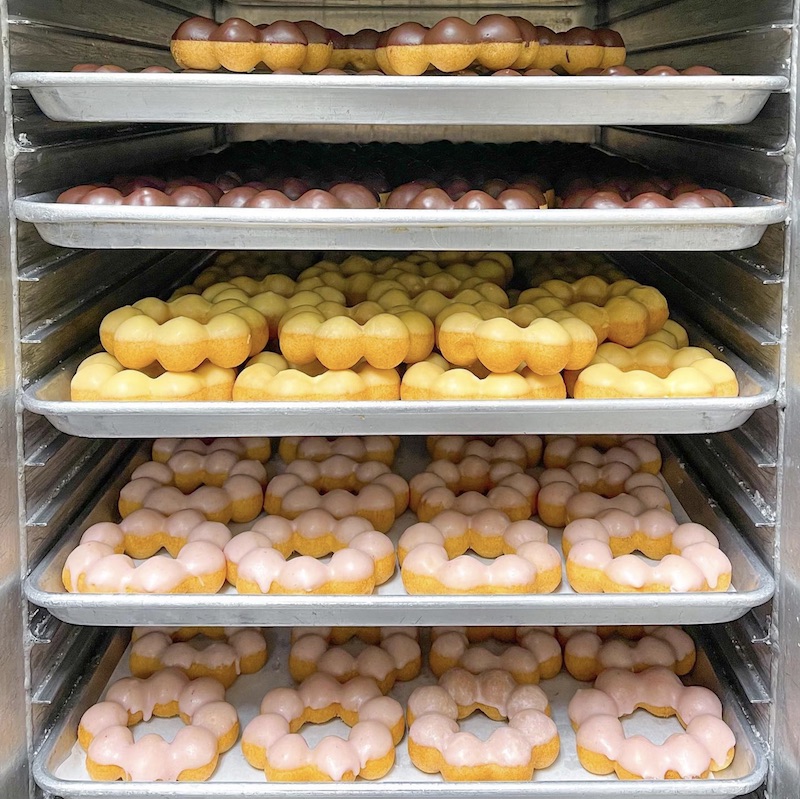 Meadows Pierogi Pop-Up at Side Pie -> The Altadena Pizzeria will partner up with Ukranian-Indian concept Meadows Pierogi for a pop-up this Wednesday to benefit World Central Kitchen and their relief efforts in Ukraine. On the menu are a variety of pierogies served by the half dozen for $10. Pierogi stuffings include aloo bhaaji; bacon and kraut; vegan shiitake bacon and kraut; potato cheese and caramelized onions; and rapini braised in Moroccan spices and roasted garlic. A house-made Ukrainian smoked sausage is also available for $7. The pop-up starts at 5 p.m.
Advertisements
MoDo Hawaii -> Mochi donut concept MoDo Hawaii in Torrance celebrates their latest cookies and cream flavor by offering them for just $1.25 from March 20-25. 
Bourbon Steak Los Angeles x Scribe Winery -> The modern steakhouse continues its monthly wine dinner series this week with Scribe Winery on Wednesday, March 23. The five course menu includes kombu cured kampachi, hand-cut tajarin pasta, dry-aged duck breast with foie gras, American wagyu with potato pave, and Basque cheesecake. Tickets cost $195 per guest. More info here.
---
Any notes or corrections? Want to suggest an event we should add to an upcoming list? Hit us up at [email protected].
Advertisements